Latest posts by ForwardOsmosisTech
(see all)
Statkraft bids farewell to ambitious osmotic power project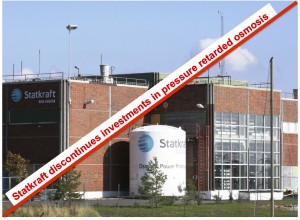 Statkraft is Europe's largest supplier of renewable energy and Norway's leading power company with 3600 employees in more than 20 countries. For the last 10 years, Statkraft have been devoting considerable resources to developing osmotic power through a process known as pressure retarded osmosis (PRO). But on December 20th 2012 Statkraft announced they were pulling the plug on osmotic power.
How does Osmotic Power / Pressure Retarded Osmosis work?
The process of PRO capitalizes on the osmotic pressure difference between a low-concentration feed stream (e.g. river water) and a high concentration draw stream (e.g. seawater) separated by a forward osmosis membrane. Water is extracted from the feed stream into the draw stream during a forward osmosis process and the extracted water is used to generate hydraulic pressure on the draw side. Later in the PRO process, the generated hydraulic pressure is used to drive turbines for electricity production. Statkraft researchers have estimated that utilization of osmotic potentials between rivers and oceans across the globe represents an energy potential of 1600-2000 TWh (corresponding to approximately 1% of the World energy consumption)
Why did Statkraft terminate their osmotic power project?
Since 24th of November 2009, Statkraft have been operating the World's only pilot scale river/seawater powered PRO plant at Tofte in Norway. The plant ran at 10kW capacity with an initial membrane energy density of 1 W/m2. However, economical break-even for osmotic power requires PRO membranes to generate 5W/m2 and be priced in the same range as standard RO membranes today (<20 USD/m2). And it is exactly at the membrane level Statkraft have experienced their biggest challenges. Although plenty of R&D type membranes are able to reach up to 10W/m2, there are no high performing AND CHEAP bulk PRO membranes available for purchasing today – and this situation is not expected to change within the next 5 years. Add on top of this, the huge scale of operation needed in order to drive down the actual OPEX costs of producing electricity in an osmotic power plant, and you're left with a rather bleak outlook. It is very likely this kind of reasoning that has led Statkraft to the conclusion that economical viability for osmotic power production lies too far in the future to justify further funding of their project.
How does the future look for PRO and osmotic power?
Statkraft's recent decision to pull out of the osmotic power area definitely caught the forward osmosis community off guard – with both researchers and soon-to-be commercial producers of FO membrane products now asking themselves whether PRO will ever find widespread industrial use.  Fortunately, it may all not be as bad as it seems. Statkraft's failure to commercialize osmotic power should be used as a learning experience to spur on commercial entities to identify economically viable PRO applications within the restraints of the current technological know-how and commercial availability of suitable membrane products. PRO-based recycling of energy in industrial water processes is one area that could see commercial activity within the near future.